Mother House is a non-profit organization that supports inmates and former-inmates to rehabilitate into society. It was launched on 2012 and established as a NPO in 2014. We are striving for a society where everyone has the chance to lead a happy life, including those who have broken the law in the past.
Many of the our staff, including the director IGARASHI Hiroshi , have had experience in penal facilities. As those who have once been imprisoned, our ambition is to use that experience inside prison, to support inmates and former-inmates return to society.
What We Do. → page "Project"
Social Issues Surrounding Prisoners and Former-Inmates
1.Insufficient public support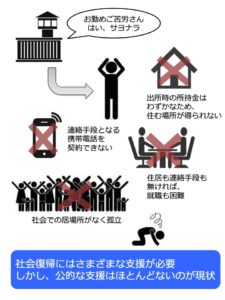 In today's society, there is very little public support for those released from penal facilities. The wages prisoners receive for their penal labor are a very small amount. However, once they complete their sentence, the prisoners are released into society without any extra money or a place to stay. Most former prisoners that repeat offence are those who have nowhere to go and nobody they can rely on. No matter how much effort is put in, it is extremely difficult to return to society alone. Support is essential for rehabilitating into this world.
2. Securing Residency
The first thing needed when released into society, is a house. When looking for a place to live in Tokyo, at least 200,000 to 300,000 yen is required as initial cost. Financial help from welfare institutions come afterwards, meaning when signing the contract, the cost must be paid from oneself.
In addition, since former-inmates have no social credibility and no surety in the rental agreement, Mother House helps out by signing a corporation contract. As so, securing residency is difficult and is in most need of financial support.
3. Creating Sanctuary
Many former-inmates do not have a place in society, they are isolated. Although one will try their best in society, it often fails when they come to face difficulties. When they do, they will rely on the only community they know, the gangs and such from their past, which results to committing crimes once again.
In order for former-inmates to fully rehabilitate into society, it is essential to have multiple communities they can rely on. Mother House has created such a community "Maria Café" where former-inmates and supporters can share their experience and troubles.
4. Mental Care and Employment Support
Securing an occupation doesn't mean one has completely rehabilitated into society. Many former-inmates possess various mental traumas and health problems after being released from prison. This is because the environment and life style outside the walls extremely differ from inside prison. In such a situation, suddenly getting a job will raise the risk of breaking the law again.
Fighting towards an Inclusive Society
Is Re-offending really Self Responsibility?
Many people may think: "It is the former-inmates' own responsibility to face the difficulties of reintegration into society, it is not our responsibility to help them."
However, this way of thinking is what excludes former-inmates and prisoners from society. Leaving them isolated, forcing them to committing a crime again, which leads to more innocent people becoming victims. Is that really the society people want?
Many of the offenders are not how they are portrayed by the media: "dangerous criminals(or monsters)", but the same humans who live with us in the same society. Many prisoners eventually return to our society.
Mother House promotes social tolerance through various kinds of support, and aspires to create an inclusive society, where each and every person has the chance for happiness.
We greatly appreciate your support.
Community Space "Maria Cafe"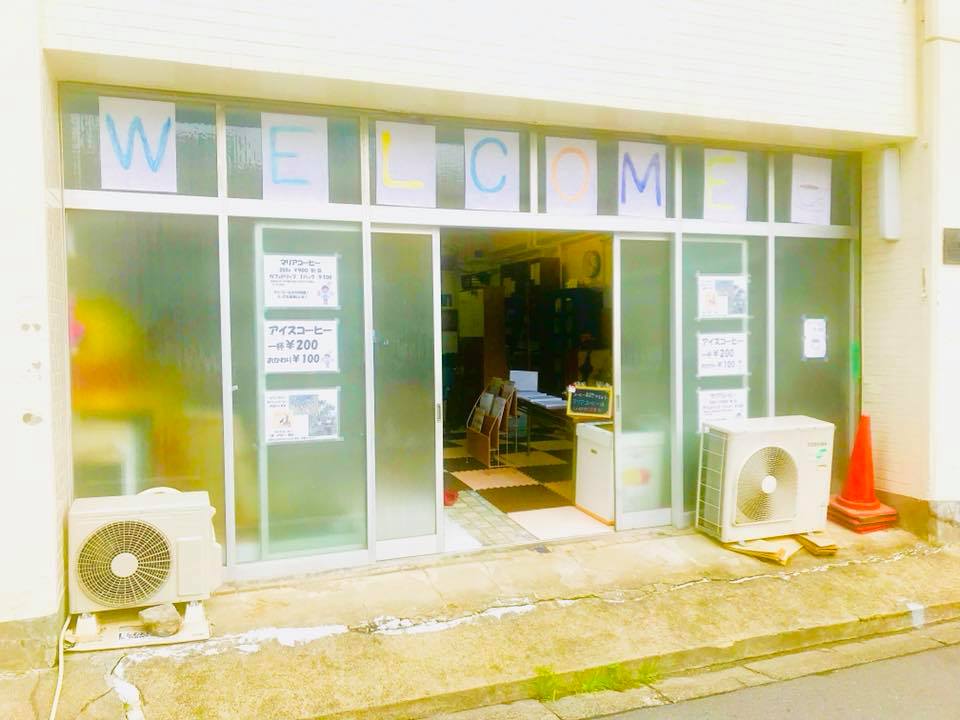 Access
10 minutes walk from Morishita Station, Toei-Oedo-Line.